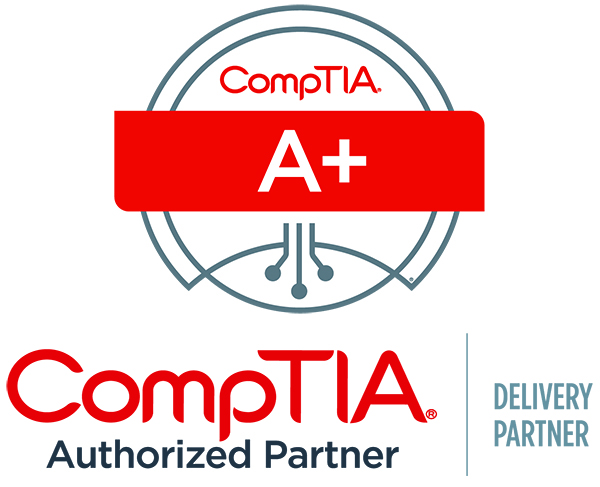 The Information Technology Level 1 Help Desk is a course bundle comprised of CompTIA A+ and Customer Service Representative (CSR) Exam Prep to give students the necessary skills and certifications to be able to be able to achieve success at an entry level IT Help Desk job.  This course prepares the student to take the CompTIA A+ and HDI Customer Service Representative certification exams.  
This course includes FREE access for 12 months to a cloud based lab platform to assist students develop the practical information technology (IT) skills necessary to succeed in high in demand IT jobs.  This cloud based lab solution uses real equipment that enables our students to execute each practical task in a safe environment that is accessible from anywhere without needing to buy their own hardware or risk damage to their own system.
Along with providing the necessary hardware in a virtual environment, students gain access to high quality practical exercises that cover many of the exam topics they will encounter on their certifying exams.
This course prepares a student to take the CompTIA A+ 220-1101 and CompTIA A+ 220-1102 and HDI Customer Service Representative (HDI-CSR) certification exams.
Course Outline:
CompTIA A+ 220-1101 Curriculum:
Lesson 1: Installing Motherboards and Connectors
One of the main roles for a CompTIA A+ technician is to install and configure personal computer (PC) hardware. This hands-on part of the job is what draws many people to a career in information technology (IT) support. As an IT professional, you will set up desktop computers and help end users to select a system configuration and peripheral devices that are appropriate to their work. You will often have to connect peripheral devices using the correct cables and connectors and install plug-in adapter cards.
To complete these tasks, you must understand how the peripheral devices and internal PC components are connected via the motherboard. As you may encounter many different environments in your work, you must also be able to distinguish and support both modern and legacy connection interfaces.
Lesson 2: Installing System Devices
The market for the system components of a personal computer is a complex one. Processors, memory modules, disk drives, and power supplies are advertised with a bewildering range of technology improvements and performance differentiators. As a CompTIA A+ technician, you need to interpret these performance characteristics and understand how processing, storage, and power components contribute to a PC specification that is appropriate for a given usage scenario. You must be able to resolve compatibility issues and be confident about the manual installation and removal procedures for these often expensive and delicate devices.
Lesson 3: Troubleshooting PC Hardware
Troubleshooting is a core competency for the role of CompTIA A+ service technician. Whether it is trying to identify a fault in a new build system or assisting a user with a computer that has just stopped working, you will typically be required to demonstrate your troubleshooting skills on each and every day of your job. To become an effective troubleshooter, you need a wide range of knowledge, the ability to pay attention to details, and the readiness to be open and flexible in your approach to diagnosing issues. It is also important to learn and apply best practices and a structured methodology to give yourself the best chance of success when diagnosing complex troubleshooting scenarios.
Lesson 4: Comparing Local Networking Hardware
Network support is a great competency for IT technicians at all levels to possess. In today's environment, standalone computing is a rarity. Just about every digital device on the planet today is connected to external resources via a network, whether it is a small office/home office (SOHO) network, a corporate WAN, or to the Internet directly. The ability to connect, share, and communicate using a network is crucial for running a business and staying connected to everything in the world. As a CompTIA® A+® support technician, if you understand the technologies that underlie both local and global network communications, you can play an important role in ensuring that the organization you support stays connected.
Lesson 5: Configuring Network Addressing and Internet Connections
Network cabling, wireless radios, and devices such as switches and APs are used to implement local networks at the hardware level. A local-only network has limited uses, however. The full functionality of networking is only realized when local networks join wide area networks, such as the Internet. This requires modem devices and radio antennas that can communicate over the cabling and wireless media types used by Internet service providers (ISPs). It also requires technologies that can identify each network and forward data between them. This network addressing and forwarding function is performed by router devices and the Internet Protocol (IP).
Lesson 6: Supporting Network Services
IP, TCP/UDP, DHCP, and DNS establish the basic addressing and forwarding functions necessary to implement network connectivity. Network applications use these underlying network and transport functions to run user-level services, such as web browsing or file sharing. In this topic, you will learn to summarize the server roles that are used to implement network applications.
Lesson 7: Summarizing Virtualization and Cloud Concepts
Virtualization is also the technology underpinning cloud computing. Cloud is one of the most dominant trends in networking and service provision. Many organizations are outsourcing parts of their IT infrastructure, platforms, storage, or services to cloud solutions providers. Virtualization is at the core of cloud service provider networks. If you can compare and contrast the delivery and service models for cloud, your customers will benefit from your advice and support when deploying cloud resources.
Lesson 8: Supporting Mobile Devices
This lesson focuses on mobile devices and how they differ from desktop systems in terms of features, upgrade/repair procedures, and troubleshooting. As a certified CompTIA® A+® technician, you will be expected to configure, maintain, and troubleshoot laptops, smartphones, and tablets. With the proper information and the right skills, you will be ready to support these devices as efficiently as you support their desktop counterparts.
Lesson 9: Supporting Print Devices
Despite predictions that computers would bring about a paperless office environment, the need to transfer digital information to paper or back again remains strong. As a CompTIA® A+® certified professional, you will often be called upon to set up, configure, and troubleshoot print and scan devices. Having a working knowledge of the many printer technologies and components will help you to support users' needs in any technical environment.
CompTIA A+ 220-1102 Curriculum:
Lesson 1: Configuring Windows
The operating system (OS) is the software that provides a user interface to the computer hardware and provides an environment in which to run software applications and create computer networks. As a professional IT support representative or PC service technician, your job will include installing, configuring, maintaining, and troubleshooting personal computer (PC) operating systems.
Lesson 2: Managing Windows
Settings and Control Panel are focused on managing configuration settings for a single computer. In an enterprise environment, configuration and monitoring of hundreds or thousands of desktops require more advanced tools. For example, very commonly, configuration can be achieved more quickly and reliably using command-line tools. In this lesson, you will learn about the appropriate use of advanced interfaces and tools to manage Windows 10 and Windows 11 systems.
Lesson 3: Identifying OS Types and Features
While the early lessons in this course have focused on Windows 10, there is a much wider range of operating systems available. Even with Windows, there are various editions to target different market sectors. There are also operating systems designed to support specific hardware types, such as mobile devices. Being able to compare and contrast OS types, versions, and editions will prepare you to support users in a variety of different environments.
Lesson 4: Supporting Windows
To support an OS, you must be able to plan the deployment of software, train and assist users, and troubleshoot problems. As well as technical challenges, there are operational and business factors to consider when installing operating systems and third-party software. Troubleshooting requires knowledge of common symptoms and probable causes in addition to being able to use tools to recover a system or data files.
Lesson 5: Managing Windows Networking
Once you have the computer network up and running, you can start to configure it to provide useful services. File and print sharing are key uses of almost every network. When configuring these resources, you must be aware of potential security issues and understand how to set permissions correctly to ensure that data is only accessible to those users who really should have been authorized to see it.
Lesson 6: Managing Linux and macOS
The various operating systems you might encounter use different interfaces and command syntax, but the functionality of those tools is common across all types of systems. You will need to configure disks and file systems, user accounts, network settings, and software applications.
Lesson 7: Configuring SOHO Network Security
By identifying security threats and vulnerabilities, as well as some of the controls that can counteract them, you can help keep your organization's computing resources safe from unauthorized access. In this lesson, you will identify security threats and vulnerabilities, plus some of the logical and physical controls used to mitigate them on SOHO networks.
Lesson 8: Managing Security Settings
Firewalls provide a security border around a network, but this secure border is not sufficient to protect against insider threat, advanced malware, or sophisticated threat-actor tactics and techniques. Most organizations deploy defense in depth controls to ensure that each endpoint—computer, laptop, smartphone, or tablet—is deployed in a hardened configuration in terms of both the OS and the web browser software.
Lesson 9: Supporting Mobile Software
Mobile devices have largely replaced computers as contact-manager and web-browsing tools, and there is little choice but for an enterprise network to support their use. The huge variety of device types and mobile OS types and versions makes managing their use a complex task, however.
Lesson 10: Using Support and Scripting Tools
As a CompTIA A+ technician, you will usually perform support tasks within the context of a company's operational procedures. These procedures include ways of using remote access to handle problems more efficiently, coping with disasters so that data loss and system downtime is minimized, identifying regulated data and content, planning for security incident response, and potentially using scripting to ensure standardized configuration changes.
Lesson 11: Implementing Operational Procedures
Companies also need ticketing systems, asset documentation, and change-management procedures to enforce configuration management. They need safe working practices and to ensure the physical environment does not present any health hazards or risks to electronic devices. Additionally, they need to ensure that technicians and agents represent the company professionally in all customer contact and support situations.
Customer Service Representative (CSR) Exam Prep Curriculum:
Lesson 1: What is Customer Service
In this lesson, we will define customer service and discuss its importance in an organization's success.  In addition, we will explore customer needs, the benefits gained through meeting those needs, and the role of the customer service representative in this process. We will also discuss the concept of social customers.
Lesson 2: The Global Customer
Best-in-class global service is all about delivering the right information in context to optimize business processes, applications, and activities that support service.  In this lesson, we will discuss ways that the CSR can best serve the global customer. 
Lesson 3: Exceptional Customer Service
According to a study by RightNow Technologies, 73 percent of customers leave because of poor customer service. In this lesson, we will discuss ways that organizations can understand, meet, and exceed customer expectations through exceptional customer service. 
Lesson 4: Customer Service Strategy
Most organizations are made of people and customers; therefore, having a strategy for delivering consistently excellent customer service is essential.  In this less we will discuss building a customer service strategy in a way that encourages quality service resulting in customer satisfaction. 
Lesson 5: Critical Workplace Skills
Every organization has expectations of its employees.  In customer service, meeting these expectations is extremely important, as it affects the customers' experience and the health of the business.  In this lesson, we will discuss workplace skills that are critical in customer service.  In addition, we will discuss balancing those skills, setting realistic goals, and how to maximize those skills.
Lesson 6: Problem Solving
In this lesson, we will discuss the importance of the Customer Service Representative in problem solving, resolving conflict, and winning back business through excellent customer service. 
Lesson 7: Extreme Customers and Customer Retention
Every business will encounter challenging situations and difficult customers from time to time.  In this lesson we will discuss approaches for handling challenges and dealing with difficult customers.
Lesson 8: Managing Customer Service
In this lesson, we will discuss effective approaches for managing customer services representatives, such as the provision of training, team-building, a positive environment, and clear expectations. 
Lesson 9: Communication Essentials
In this lesson, we will explore communication styles, discuss the basics of written and verbal communication, and become familiar with the characteristics of effective communication. 
Lesson 10: Customer-Focused Listening
In this lesson, we will discuss effective listening and listening habits along with roadblocks to effective communication. 
Lesson 11: Nonverbal Communication, Dress, and Manners
In this lesson, we will focus on the use of Nonverbal Communication, Dress, and Manners in the best way during interactions with customers. Whether individuals are face-to-face or at a distance from each other, how either party respects and makes the other person feel can manifest in an exciting beginning or an unfortunate ending to a service relationship.
Lesson 12: Telephone and Digital Communication
In this lesson, we will discuss various forms of digital and telephone communication, including web chat, VoIP, telephone service, inbound customer service calls, and outbound telemarketing.
All necessary materials are included.
Certification(s):
This course prepares a student to take the CompTIA A+ 220-1101 and CompTIA A+ 220-1102 and HDI Customer Service Representative (HDI-CSR) certification exams.