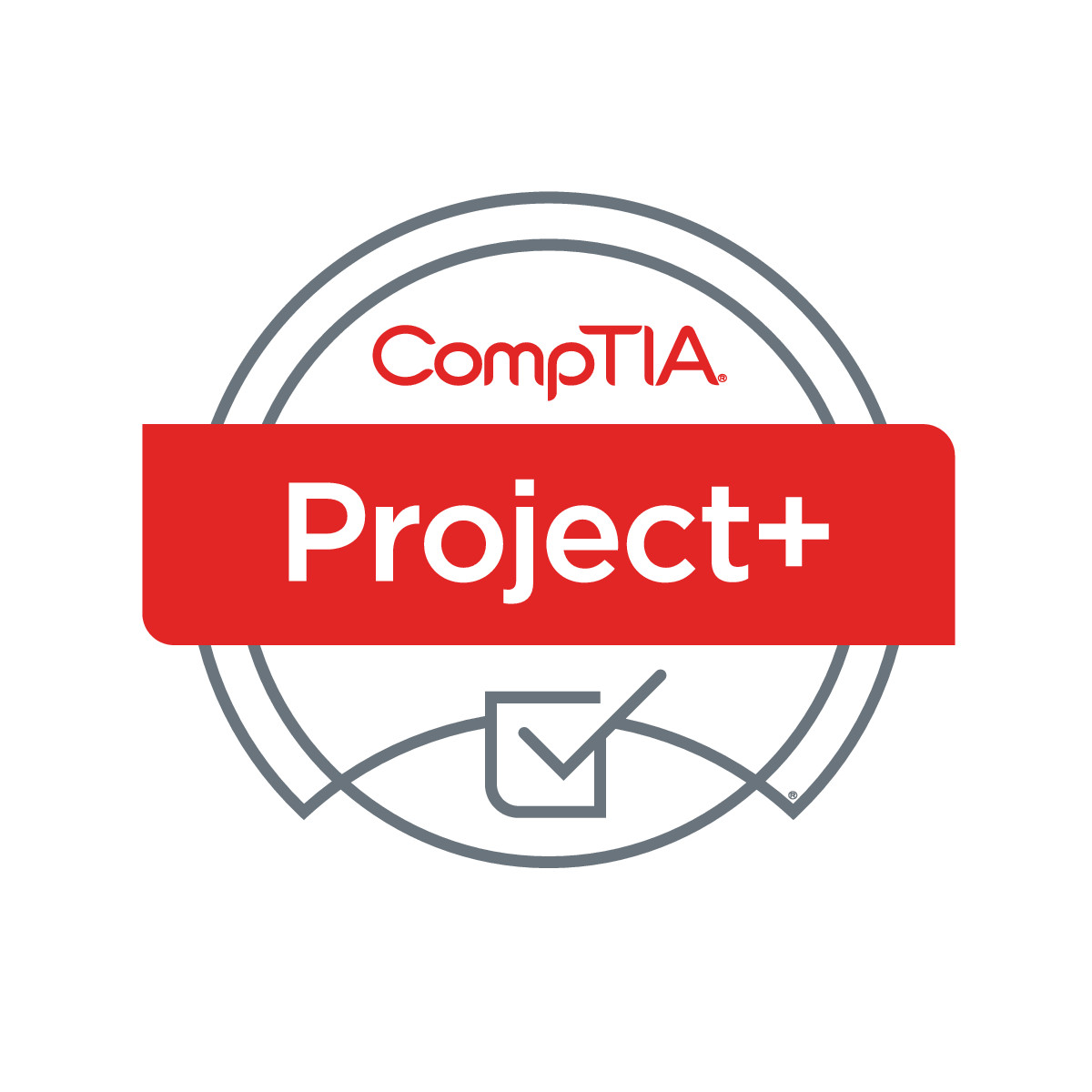 This introductory course follows that CompTIA Project+ exam blueprint and is divided into sections that cover major topic areas. Each section is explained in sufficient detail to become a Project+ certified professional. If you've never taken a certification test before, you'll find that the Project+ exam is a pleasant way to get your feet wet. The test isn't overly complicated or riddled with trick questions; it simply covers the basics of project management. Once you pass the exam and gain confidence in your project management knowledge and skills, you'll be ready to progress to other certifications and be eager to learn the more in-depth topics involved in project management.This course can help you prepare for the exam and have you on the road to certification!
Students will:
Review each section of a Project
Understand the importance of each step in the Project process
Gain experience to prepare them for their certification exam through practice questions
This course prepares students to take the CompTIA Project+ PK0-004 certification exam.
Course Outline:
Lesson 1: Initiating the Project and Team Roles
In this lesson, you will learn about the steps to initiating a project as well as information about the roles of all stakeholders involved. The Initiating processes includes all the activities that lead up to the final authorization to begin the project, starting with the original project request. This process can be formal or informal, depending on the organization.
Lesson 2: Project Charter and Work Breakdown Structure
In this lesson, you will learn about how to create a project charter and establish a work breakdown structure. The project charter authorizes the project to begin and the work breakdown structure provides a structural view to the project. 
Lesson 3: Project Schedule and Resource Planning
In this lesson, you will look at creating a project schedule and planning for any needed resources. A project schedule is a listing of a project's milestones, activities, and deliverables, usually with intended start and finish dates. All projects require resources to complete the tasks and deliver a successful project.The CompTIA exam breaks the concept of resources into several categories: resource management concepts, personnel management, and conflict management.
Lesson 4: Project Budget and Risk Plans
In this lesson, you will examine the budgeting process and the element of risk. The project budget is a detailed estimate of all the costs required to complete project tasks. It is much more detailed than the high-level budget developed in the Initiate Stage. A risk management plan is a document that a project manager prepares to foresee risks, estimate impacts, and define responses to issues.
Lesson 5: Communicating the Plan/Change Requests and Procurement Documents
In this lesson, you will look at communicating your plan as well and change requests and procurement documents. You will start with figuring out the aim of the communication plan, developing objectives, acknowledging key messages as well as a target audience, planning tasks, and timelines to evaluation of the communication plan. A change request is a document containing a call for an adjustment of a system. Procurement documents are the contractual relationship between the customer and the supplier of goods or services.
Lesson 6: Project Tools and Documentation
In this lesson, you will learn about the value of project tools and the importance of documentation. A Gantt chart, Logic Network, PERT chart, Product Breakdown Structure and Work Breakdown Structure are standard tools used in project planning. There are two essential functions of documentation: to make sure that project requirements are fulfilled and to establish traceability with regard to what has been done, who has done it, and when it has been done.
All necessary course materials are included.
Certification(s):
This course prepares students to take the CompTIA Project+ PK0-004 certification exam.
Recommended Experience: At least 12 months of cumulative project management experience or equivalent education.