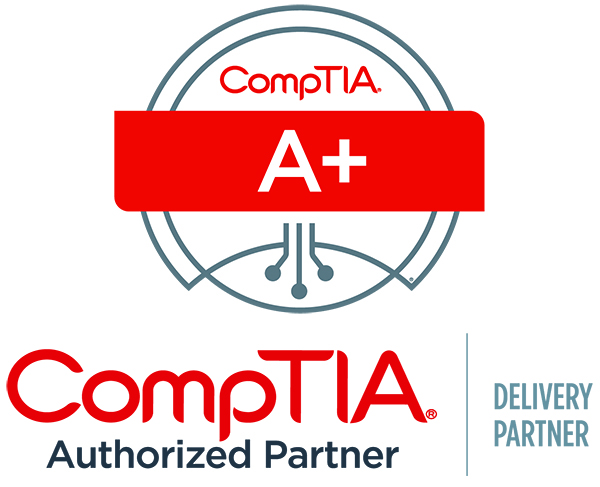 On course completion, you will be able to achieve the following:
Configure and troubleshoot the Windows operating system.
Support the Linux and macOS operating systems.
Configure SOHO network security and manage PC security settings.
Support the use of mobile apps.
Use remote support and scripting tools.
Implement operational procedures.
This course includes access to the official CompTIA course content, official CompTIA hands-on live lab cloud content, and official CompTIA practice certification exam.
Testimonial
"My ProTrain CompTIA A+ certification equaled two years of experience with the company I interviewed, and I was hired within two days. I work full time and enjoy a good salary with full benefits including health, life insurance, and a 401k."
Course Outline:
Lesson 1: Configuring Windows
The operating system (OS) is the software that provides a user interface to the computer hardware and provides an environment in which to run software applications and create computer networks. As a professional IT support representative or PC service technician, your job will include installing, configuring, maintaining, and troubleshooting personal computer (PC) operating systems.
Lesson 2: Managing Windows
Settings and Control Panel are focused on managing configuration settings for a single computer. In an enterprise environment, configuration and monitoring of hundreds or thousands of desktops require more advanced tools. For example, very commonly, configuration can be achieved more quickly and reliably using command-line tools. In this lesson, you will learn about the appropriate use of advanced interfaces and tools to manage Windows 10 and Windows 11 systems.
Lesson 3: Identifying OS Types and Features
While the early lessons in this course have focused on Windows 10, there is a much wider range of operating systems available. Even with Windows, there are various editions to target different market sectors. There are also operating systems designed to support specific hardware types, such as mobile devices. Being able to compare and contrast OS types, versions, and editions will prepare you to support users in a variety of different environments.
Lesson 4: Supporting Windows
To support an OS, you must be able to plan the deployment of software, train and assist users, and troubleshoot problems. As well as technical challenges, there are operational and business factors to consider when installing operating systems and third-party software. Troubleshooting requires knowledge of common symptoms and probable causes in addition to being able to use tools to recover a system or data files.
Lesson 5: Managing Windows Networking
Once you have the computer network up and running, you can start to configure it to provide useful services. File and print sharing are key uses of almost every network. When configuring these resources, you must be aware of potential security issues and understand how to set permissions correctly to ensure that data is only accessible to those users who really should have been authorized to see it.
Lesson 6: Managing Linux and macOS
The various operating systems you might encounter use different interfaces and command syntax, but the functionality of those tools is common across all types of systems. You will need to configure disks and file systems, user accounts, network settings, and software applications.
Lesson 7: Configuring SOHO Network Security
By identifying security threats and vulnerabilities, as well as some of the controls that can counteract them, you can help keep your organization's computing resources safe from unauthorized access. In this lesson, you will identify security threats and vulnerabilities, plus some of the logical and physical controls used to mitigate them on SOHO networks.
Lesson 8: Managing Security Settings
Firewalls provide a security border around a network, but this secure border is not sufficient to protect against insider threat, advanced malware, or sophisticated threat-actor tactics and techniques. Most organizations deploy defense in depth controls to ensure that each endpoint—computer, laptop, smartphone, or tablet—is deployed in a hardened configuration in terms of both the OS and the web browser software.
Lesson 9: Supporting Mobile Software
Mobile devices have largely replaced computers as contact-manager and web-browsing tools, and there is little choice but for an enterprise network to support their use. The huge variety of device types and mobile OS types and versions makes managing their use a complex task, however.
Lesson 10: Using Support and Scripting Tools
As a CompTIA A+ technician, you will usually perform support tasks within the context of a company's operational procedures. These procedures include ways of using remote access to handle problems more efficiently, coping with disasters so that data loss and system downtime is minimized, identifying regulated data and content, planning for security incident response, and potentially using scripting to ensure standardized configuration changes.
Lesson 11: Implementing Operational Procedures
Companies also need ticketing systems, asset documentation, and change-management procedures to enforce configuration management. They need safe working practices and to ensure the physical environment does not present any health hazards or risks to electronic devices. Additionally, they need to ensure that technicians and agents represent the company professionally in all customer contact and support situations.
All necessary course materials are included.
Certification(s):
This course prepares a student to take the CompTIA A+ 220-1102 national certification exam.