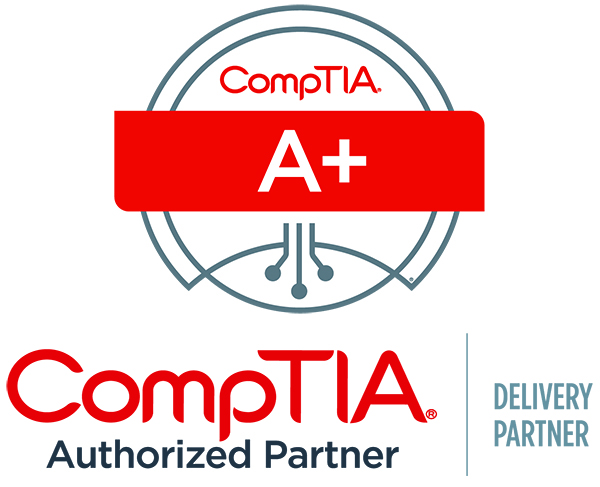 On course completion, you will be able to achieve the following:
Install, configure, and troubleshoot PC motherboards, system components, and peripheral devices.
Compare networking hardware types and configure local addressing and Internet connections.
Summarize uses for network services, virtualization, and cloud computing.
Support the use of mobile devices and print devices.
This course includes access to the official CompTIA course content, official CompTIA hands-on live lab cloud content,
and official CompTIA practice certification exam.
Testimonial
"My ProTrain CompTIA A+ certification equaled two years of experience with the company I interviewed, and I was hired within two days. I work full time and enjoy a good salary with full benefits including health, life insurance, and a 401k."
Course Outline:
Lesson 1: Installing Motherboards and Connectors
One of the main roles for a CompTIA A+ technician is to install and configure personal computer (PC) hardware. This hands-on part of the job is what draws many people to a career in information technology (IT) support. As an IT professional, you will set up desktop computers and help end users to select a system configuration and peripheral devices that are appropriate to their work. You will often have to connect peripheral devices using the correct cables and connectors and install plug-in adapter cards.
To complete these tasks, you must understand how the peripheral devices and internal PC components are connected via the motherboard. As you may encounter many different environments in your work, you must also be able to distinguish and support both modern and legacy connection interfaces.
Lesson 2: Installing System Devices
The market for the system components of a personal computer is a complex one. Processors, memory modules, disk drives, and power supplies are advertised with a bewildering range of technology improvements and performance differentiators. As a CompTIA A+ technician, you need to interpret these performance characteristics and understand how processing, storage, and power components contribute to a PC specification that is appropriate for a given usage scenario. You must be able to resolve compatibility issues and be confident about the manual installation and removal procedures for these often expensive and delicate devices.
Lesson 3: Troubleshooting PC Hardware
Troubleshooting is a core competency for the role of CompTIA A+ service technician. Whether it is trying to identify a fault in a new build system or assisting a user with a computer that has just stopped working, you will typically be required to demonstrate your troubleshooting skills on each and every day of your job. To become an effective troubleshooter, you need a wide range of knowledge, the ability to pay attention to details, and the readiness to be open and flexible in your approach to diagnosing issues. It is also important to learn and apply best practices and a structured methodology to give yourself the best chance of success when diagnosing complex troubleshooting scenarios.
Lesson 4: Comparing Local Networking Hardware
Network support is a great competency for IT technicians at all levels to possess. In today's environment, standalone computing is a rarity. Just about every digital device on the planet today is connected to external resources via a network, whether it is a small office/home office (SOHO) network, a corporate WAN, or to the Internet directly. The ability to connect, share, and communicate using a network is crucial for running a business and staying connected to everything in the world. As a CompTIA® A+® support technician, if you understand the technologies that underlie both local and global network communications, you can play an important role in ensuring that the organization you support stays connected.
Lesson 5: Configuring Network Addressing and Internet Connections
Network cabling, wireless radios, and devices such as switches and APs are used to implement local networks at the hardware level. A local-only network has limited uses, however. The full functionality of networking is only realized when local networks join wide area networks, such as the Internet. This requires modem devices and radio antennas that can communicate over the cabling and wireless media types used by Internet service providers (ISPs). It also requires technologies that can identify each network and forward data between them. This network addressing and forwarding function is performed by router devices and the Internet Protocol (IP).
Lesson 6: Supporting Network Services
IP, TCP/UDP, DHCP, and DNS establish the basic addressing and forwarding functions necessary to implement network connectivity. Network applications use these underlying network and transport functions to run user-level services, such as web browsing or file sharing. In this topic, you will learn to summarize the server roles that are used to implement network applications.
Lesson 7: Summarizing Virtualization and Cloud Concepts
Virtualization is also the technology underpinning cloud computing. Cloud is one of the most dominant trends in networking and service provision. Many organizations are outsourcing parts of their IT infrastructure, platforms, storage, or services to cloud solutions providers. Virtualization is at the core of cloud service provider networks. If you can compare and contrast the delivery and service models for cloud, your customers will benefit from your advice and support when deploying cloud resources.
Lesson 8: Supporting Mobile Devices
This lesson focuses on mobile devices and how they differ from desktop systems in terms of features, upgrade/repair procedures, and troubleshooting. As a certified CompTIA® A+® technician, you will be expected to configure, maintain, and troubleshoot laptops, smartphones, and tablets. With the proper information and the right skills, you will be ready to support these devices as efficiently as you support their desktop counterparts.
Lesson 9: Supporting Print Devices
Despite predictions that computers would bring about a paperless office environment, the need to transfer digital information to paper or back again remains strong. As a CompTIA® A+® certified professional, you will often be called upon to set up, configure, and troubleshoot print and scan devices. Having a working knowledge of the many printer technologies and components will help you to support users' needs in any technical environment.
All necessary course materials are included.
Certification(s):
This course prepares a student to take the CompTIA A+ 220-1101 national certification exam.