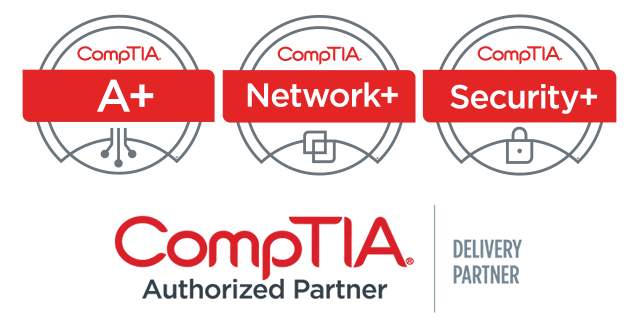 The CompTIA A+ Core Series emphases the technologies and skills IT pros need to support a hybrid workforce, such as increased reliance on SaaS applications for remote work, troubleshooting and how to remotely diagnose and correct common software, hardware, or connectivity problems, cloud virtualization and IoT device security to data management and scripting, multiple operating systems now encountered by technicians on a regular basis and how to keep them running properly. Comptia Core reflects the changing nature of the job role, where many tasks are sent to specialized providers as certified personnel need to assess whether it's best to fix something on site, or to save time and money by sending proprietary technologies directly to vendors.
The CompTIA® Network+® (N10-008) certification covers a wide range of knowledge and skills that apply to different networking job roles. A networking job role requires a fundamental knowledge of network terminology, components, standards, types, and configurations. In this lesson, you will identify the basic concepts of networking theory.
If you intend to pass the CompTIA Security+ (SY0-601) certification examination, this course can be a significant part of your preparation. But certification is not the only key to professional success in the field of computer security. Today's job market demands individuals with demonstrable skills, and the information and activities in this course can help you build your cybersecurity skill set so that you can confidently perform your duties in any entry-level security role.
On course completion of CompTIA A+ 220-1101, you will be able to achieve the following:
Install, configure, and troubleshoot PC motherboards, system components, and peripheral devices.
Compare networking hardware types and configure local addressing and Internet connections.
Summarize uses for network services, virtualization, and cloud computing.
Support the use of mobile devices and print devices.
On course completion of CompTIA A+ 220-1102, you will be able to achieve the following:
Configure and troubleshoot the Windows operating system.
Support the Linux and macOS operating systems.
Configure SOHO network security and manage PC security settings.
Support the use of mobile apps.
Use remote support and scripting tools.
Implement operational procedures.
On completion of the CompTIA Network+ (N10-008), you will be able to:
Explain the OSI and TCP/IP Models.
Explain properties of network traffic.
Install and configure switched networks.
Configure IP networks.
Install and configure routed networks.
Configure and monitor ports and protocols.
Explain network application and storage issues.
Monitor and troubleshoot networks.
Explain network attacks and mitigations.
Install and configure security devices.
Explain authentication and access controls.
Deploy and troubleshoot cabling solutions.
Implement and troubleshoot wireless technologies.
Compare and contrast WAN technologies.
Use remote access methods.
Identify site policies and best practices.
On completion of the CompTIA Security+ (SY0-601), you will be able to:
Compare security roles and security controls
Explain threat actors and threat intelligence
Perform security assessments and identify social engineering attacks and malware types
Summarize basic cryptographic concepts and implement public key infrastructure
Implement authentication controls
Implement identity and account management controls
Implement secure network designs, network security appliances, and secure network protocols
Implement host, embedded/Internet of Things, and mobile security solutions
Implement secure cloud solutions
Explain data privacy and protection concepts
Perform incident response and digital forensics
Summarize risk management concepts and implement cybersecurity resilience
Explain physical security
This course includes FREE access for 12 months to a cloud based lab platform to assist students develop the practical information technology (IT) skills necessary to succeed in high in demand IT jobs.  This cloud based lab solution uses real equipment that enables our students to execute each practical task in a safe environment that is accessible from anywhere without needing to buy their own hardware or risk damage to their own system.
Along with providing the necessary hardware in a virtual environment, students gain access to high quality practical exercises that cover many of the exam topics they will encounter on their certifying exams.
This course prepares students to take the CompTIA A+ 220-1101, 220-1102, Network+ N10-008, and Security+ SY0-601 certification exams.
Course Outline:
CompTIA A+ Core 1 (220-1101) Curriculum:
Lesson 1: Installing Motherboards and Connectors
One of the main roles for a CompTIA A+ technician is to install and configure personal computer (PC) hardware. This hands-on part of the job is what draws many people to a career in information technology (IT) support. As an IT professional, you will set up desktop computers and help end users to select a system configuration and peripheral devices that are appropriate to their work. You will often have to connect peripheral devices using the correct cables and connectors and install plug-in adapter cards.
To complete these tasks, you must understand how the peripheral devices and internal PC components are connected via the motherboard. As you may encounter many different environments in your work, you must also be able to distinguish and support both modern and legacy connection interfaces.
Lesson 2: Installing System Devices
The market for the system components of a personal computer is a complex one. Processors, memory modules, disk drives, and power supplies are advertised with a bewildering range of technology improvements and performance differentiators. As a CompTIA A+ technician, you need to interpret these performance characteristics and understand how processing, storage, and power components contribute to a PC specification that is appropriate for a given usage scenario. You must be able to resolve compatibility issues and be confident about the manual installation and removal procedures for these often expensive and delicate devices.
Lesson 3: Troubleshooting PC Hardware
Troubleshooting is a core competency for the role of CompTIA A+ service technician. Whether it is trying to identify a fault in a new build system or assisting a user with a computer that has just stopped working, you will typically be required to demonstrate your troubleshooting skills on each and every day of your job. To become an effective troubleshooter, you need a wide range of knowledge, the ability to pay attention to details, and the readiness to be open and flexible in your approach to diagnosing issues. It is also important to learn and apply best practices and a structured methodology to give yourself the best chance of success when diagnosing complex troubleshooting scenarios.
Lesson 4: Comparing Local Networking Hardware
Network support is a great competency for IT technicians at all levels to possess. In today's environment, standalone computing is a rarity. Just about every digital device on the planet today is connected to external resources via a network, whether it is a small office/home office (SOHO) network, a corporate WAN, or to the Internet directly. The ability to connect, share, and communicate using a network is crucial for running a business and staying connected to everything in the world. As a CompTIA® A+® support technician, if you understand the technologies that underlie both local and global network communications, you can play an important role in ensuring that the organization you support stays connected.
Lesson 5: Configuring Network Addressing and Internet Connections
Network cabling, wireless radios, and devices such as switches and APs are used to implement local networks at the hardware level. A local-only network has limited uses, however. The full functionality of networking is only realized when local networks join wide area networks, such as the Internet. This requires modem devices and radio antennas that can communicate over the cabling and wireless media types used by Internet service providers (ISPs). It also requires technologies that can identify each network and forward data between them. This network addressing and forwarding function is performed by router devices and the Internet Protocol (IP).
Lesson 6: Supporting Network Services
IP, TCP/UDP, DHCP, and DNS establish the basic addressing and forwarding functions necessary to implement network connectivity. Network applications use these underlying network and transport functions to run user-level services, such as web browsing or file sharing. In this topic, you will learn to summarize the server roles that are used to implement network applications.
Lesson 7: Summarizing Virtualization and Cloud Concepts
Virtualization is also the technology underpinning cloud computing. Cloud is one of the most dominant trends in networking and service provision. Many organizations are outsourcing parts of their IT infrastructure, platforms, storage, or services to cloud solutions providers. Virtualization is at the core of cloud service provider networks. If you can compare and contrast the delivery and service models for cloud, your customers will benefit from your advice and support when deploying cloud resources.
Lesson 8: Supporting Mobile Devices
This lesson focuses on mobile devices and how they differ from desktop systems in terms of features, upgrade/repair procedures, and troubleshooting. As a certified CompTIA® A+® technician, you will be expected to configure, maintain, and troubleshoot laptops, smartphones, and tablets. With the proper information and the right skills, you will be ready to support these devices as efficiently as you support their desktop counterparts.
Lesson 9: Supporting Print Devices
Despite predictions that computers would bring about a paperless office environment, the need to transfer digital information to paper or back again remains strong. As a CompTIA® A+® certified professional, you will often be called upon to set up, configure, and troubleshoot print and scan devices. Having a working knowledge of the many printer technologies and components will help you to support users' needs in any technical environment.
CompTIA A+ Core 2 (220-1102) Curriculum:
Lesson 1: Configuring Windows
The operating system (OS) is the software that provides a user interface to the computer hardware and provides an environment in which to run software applications and create computer networks. As a professional IT support representative or PC service technician, your job will include installing, configuring, maintaining, and troubleshooting personal computer (PC) operating systems.
Lesson 2: Managing Windows
Settings and Control Panel are focused on managing configuration settings for a single computer. In an enterprise environment, configuration and monitoring of hundreds or thousands of desktops require more advanced tools. For example, very commonly, configuration can be achieved more quickly and reliably using command-line tools. In this lesson, you will learn about the appropriate use of advanced interfaces and tools to manage Windows 10 and Windows 11 systems.
Lesson 3: Identifying OS Types and Features
While the early lessons in this course have focused on Windows 10, there is a much wider range of operating systems available. Even with Windows, there are various editions to target different market sectors. There are also operating systems designed to support specific hardware types, such as mobile devices. Being able to compare and contrast OS types, versions, and editions will prepare you to support users in a variety of different environments.
Lesson 4: Supporting Windows
To support an OS, you must be able to plan the deployment of software, train and assist users, and troubleshoot problems. As well as technical challenges, there are operational and business factors to consider when installing operating systems and third-party software. Troubleshooting requires knowledge of common symptoms and probable causes in addition to being able to use tools to recover a system or data files.
Lesson 5: Managing Windows Networking
Once you have the computer network up and running, you can start to configure it to provide useful services. File and print sharing are key uses of almost every network. When configuring these resources, you must be aware of potential security issues and understand how to set permissions correctly to ensure that data is only accessible to those users who really should have been authorized to see it.
Lesson 6: Managing Linux and macOS
The various operating systems you might encounter use different interfaces and command syntax, but the functionality of those tools is common across all types of systems. You will need to configure disks and file systems, user accounts, network settings, and software applications.
Lesson 7: Configuring SOHO Network Security
By identifying security threats and vulnerabilities, as well as some of the controls that can counteract them, you can help keep your organization's computing resources safe from unauthorized access. In this lesson, you will identify security threats and vulnerabilities, plus some of the logical and physical controls used to mitigate them on SOHO networks.
Lesson 8: Managing Security Settings
Firewalls provide a security border around a network, but this secure border is not sufficient to protect against insider threat, advanced malware, or sophisticated threat-actor tactics and techniques. Most organizations deploy defense in depth controls to ensure that each endpoint—computer, laptop, smartphone, or tablet—is deployed in a hardened configuration in terms of both the OS and the web browser software.
Lesson 9: Supporting Mobile Software
Mobile devices have largely replaced computers as contact-manager and web-browsing tools, and there is little choice but for an enterprise network to support their use. The huge variety of device types and mobile OS types and versions makes managing their use a complex task, however.
Lesson 10: Using Support and Scripting Tools
As a CompTIA A+ technician, you will usually perform support tasks within the context of a company's operational procedures. These procedures include ways of using remote access to handle problems more efficiently, coping with disasters so that data loss and system downtime is minimized, identifying regulated data and content, planning for security incident response, and potentially using scripting to ensure standardized configuration changes.
Lesson 11: Implementing Operational Procedures
Companies also need ticketing systems, asset documentation, and change-management procedures to enforce configuration management. They need safe working practices and to ensure the physical environment does not present any health hazards or risks to electronic devices. Additionally, they need to ensure that technicians and agents represent the company professionally in all customer contact and support situations.
CompTIA Network+ N10-008 Curriculum:
Lesson 1: Comparing OSI Model Network Functions
Computer networks are complex systems that incorporate multiple functions, standards, and proprietary technologies. The Open Systems Interconnection (OSI) model is used to try to simplify some of this complexity. It divides network technologies between seven functional layers. This makes it easier to separate and focus on individual concepts and technologies while retaining an understanding of relationships to the functions of technologies placed in other layers.
This lesson uses the OSI model to give you an overview of the technologies that you will be studying in the rest of the course. You will compare the functions of these layers in the OSI model and apply those concepts to the installation and configuration of a small office/home office networl.
Lesson 2: Deploying Ethernet Cabling
In this topic, you will summarize standards for deploying Ethernet over copper and fiber optic media types and identify the tools and techniques required to deploy Ethernet cabling.
Lesson 3: Deploying Ethernet Switching
Cabling establishes the links between nodes on the network, but each node also requires a network interface. Not many networks are established by directly connecting each end system to every other local system. Cabling and support costs are reduced by using intermediate systems to establish local networks. These intermediate systems are deployed as network appliances such as hubs, bridges, and switches. Installing and configuring, these devices will be a regular task for you during your career in network administration.
Lesson 4: Troubleshooting Ethernet Networks
In this lesson you will explain the steps in CompTIA's Network+ troubleshooting methodology and apply these steps to solving common cable and connectivity issues.
Lesson 5: Explaining IPv4 Addressing
In this lesson, you will identify the addressing and data delivery methods of the Internet Protocol (IP). IP is at the heart of most modern networks, and consequently one of the most important topic areas for a network professional to understand and apply.
Lesson 6: Supporting IPv4 and IPv6 Networks
This lesson also introduces IPv6 addressing concepts and highlights some key differences between IPv6 and IPv4.
Lesson 7: Configuring and Troubleshooting Routers
Routers work at layer 3 to aggregate information about neighboring networks and forward packets along an appropriate path to their final destination. While configuring routing infrastructure is often a senior job role, you should understand basic concepts and be able to apply them to solve common issues.
Lesson 8: Explaining Network Topologies and Types
The cabling, switching, and routing functions of the first three layers in the OSI model can be deployed in many ways to implement networks of varying sizes and with different purposes. Being able to summarize these network types and topologies and the different network appliance models that support them will help you to build networks that meet customer goals for performance and security.
Lesson 9: Explaining Transport Layer Protocols
Layers 1 through 3 of the OSI model are concerned with addressing and packet forwarding and delivery. This basic connectivity is established for the purpose of transporting application data. In this lesson, you will learn to describe how protocols at layer 4 provision the transport services that network applications depend upon.
Lesson 10: Explaining Network Services
This lesson focuses on application protocols that perform low-level network operations tasks, such as providing dynamic address or name resolution services. You should understand the functions of the network services protocols and the ports that they rely upon to operate.
Lesson 11: Explaining Network Applications
Where DHCP and DNS support basic network operations, other application protocols provide platforms for user-level services, such as websites, databases, file/printer sharing, email, and voice/video calling. You must be able to identify the ports used by these services and their performance and security requirements so that you can assist with product deployments and upgrades and perform basic troubleshooting.
Lesson 12: Ensuring Network Availability
In this lesson, you will investigate some tools and management methods that will help you determine your network's baseline and optimize your network's performance.
Lesson 13: Explaining Common Security Concepts
In this lesson, you will describe basic concepts related to network security. As a networking professional, it is part of your responsibility to understand these fundamental concepts so that you can support network security controls.
Lesson 14: Supporting and Troubleshooting Secure Networks
Each day, the number and complexity of threats against systems integrity and data security increases. In response, there are more and more security controls available to automate the detection and prevention of these threats. Because you are a networking professional, your organization and users will be looking to you to deploy these security appliances, without compromising network availability and performance.
Lesson 15: Deploying and Troubleshooting Wireless Networks
Unbounded or wireless media technologies have distinct advantages for businesses over bounded media. They can be easier to install to existing premises and they support the device mobility that users require from laptop or smartphone-based access to networks. Wireless technology implementations offer various advantages, but you need to understand their limitations and security issues to support them properly in your network environments.
Lesson 16: Comparing WAN Links and Remote Access Methods
In this lesson, you will identify the characteristics of WAN service provider offers and components of remote access network implementations.
Lesson 17: Explaining Organizational and Physical Security Concepts
Managing a site so that the network is highly available and secure involves creating policies and best practices, supported by documentation. This might seem less immediately rewarding than getting a new application or server up-and-running, but these kinds of operational procedures are just as important to well-managed networks.
Lesson 18: Explaining Disaster Recovery and High Availability Concepts
Even with effective management procedures and premises security controls, disasters can overwhelm a site and threaten the core functions that a business must perform. Planning for disasters and designing systems for high availability is critical to supporting these mission essential functions. As an entry-level technician or administrator, you should be able to explain the importance of these concepts and identify the tools and techniques used to implement them.
Lesson 19: Applying Network Hardening Techniques
There are many ways in which networks can be attacked and just as many ways for making networks more secure. You will need a basic understanding of the security risks, and security methods and tools, in order to protect your network. In this lesson, you will learn to compare and contrast common types of attacks and to apply network hardening techniques.
Lesson 20: Summarizing Cloud and Datacenter Architecture
This lesson completes the Network+ course by summarizing the software-driven virtualization, automation, and orchestration functionality that underpins cloud services.
CompTIA Security+ SY0-601 Curriculum:
Lesson 1: Comparing Security Roles and Security Controls
Security is an ongoing process that includes assessing requirements, setting up organizational security systems, hardening them, monitoring them, responding to attacks in progress, and deterring attackers. As a security professional, it is important that you understand how the security function is implemented as departments or units and professional roles within different types of organizations. You must also be able to explain the importance of compliance factors and best practice frameworks in driving the selection of security controls.
Lesson 2: Explaining Threat Actors and Threat Intelligence
To make an effective security assessment, you must be able to explain strategies for both defense and attack. Your responsibilities are likely to lie principally in defending assets, but to do this you must be able to explain the tactics, techniques, and procedures of threat actors. You must also be able to differentiate the types and capabilities of threat actors. As the threat landscape is continually evolving, you must also be able to identify reliable sources of threat intelligence and research.
Lesson 3: Performing Security Assessments
Security assessment refers to processes and tools that evaluate the attack surface. With knowledge of adversary tactics and capabilities, you can assess whether points on the attack surface are potentially vulnerable attack vectors. The output of assessment is recommendations for deploying, enhancing, or reconfiguring security controls to mitigate the risk that vulnerabilities are exploitable by threat actors. 
Lesson 4: Identifying Social Engineering and Malware
It is not sufficient for security assessments to focus solely on software vulnerabilities and configuration errors. As well as these hardware and software systems, the attack surface contains a company's employees and the degree to which they can be exploited to gain unauthorized access or privileges. Threat actors use social engineering techniques to elicit information, obtain access to premises, and to trick users into running malicious code. You must understand these attacks and train your colleagues and customers with the ability to detect and report them. As well as being able to explain these techniques, you must be able to describe the indicators associated with different types of malware and analyze your systems for possible infections.
Lesson 5: Summarizing Basic Cryptographic Concepts
Assess and monitor activities (utilizing threat intelligence) to identify potential attack vectors and detect malicious activity. The protect cybersecurity function aims to build secure IT processing systems that exhibit the attributes of confidentiality, integrity, and availability. Many of these secure systems depend wholly or in part on cryptography.
A cryptographic system encodes data in such a way that only authorized persons can decode it. Cryptography is the basis for many of the security systems you will be implementing and configuring. As an information security professional, you must have a good understanding of the concepts underpinning cryptographic algorithms and their implementation in secure protocols and services. All security personnel must be able to contrast the different types of cryptographic ciphers, understand how they can be used to apply data confidentiality, integrity, and availability, and describe the weaknesses they may exhibit. A secure technical understanding of the subject will enable you to explain the importance of cryptographic systems and to select appropriate technologies to meet a given security goal.
Lesson 6: Implementing Public Key Infrastructure
Digital certificates and public key infrastructure (PKI) are critical services used to manage identification, authentication, and data confidentiality across most private and public networks. It is important that you understand the types of certificate that can be issued and are able to apply effective management principles when configuring and supporting these systems.
Lesson 7: Implementing Authentication Controls
Each network user and host device must be identified with an account so that you can control their access to your organization's applications, data, and services. The processes that support this requirement are referred to as identity and access management (IAM). Within IAM, authentication technologies ensure that only valid subjects (users or devices) can operate an account. Authentication requires the account holder to submit credentials that should only be known or held by them in order to access the account. There are many authentication technologies and it is imperative that you be able to compare and contrast and to implement these security controls.
Lesson 8: Implementing Identity and Account Management Controls
As well as ensuring that only valid users and devices connect to managed networks and devices, you must ensure that these subjects are authorized with only necessary permissions and privileges to access and change resources. These tasks are complicated by the need to manage identities across on-premises networks and cloud services. Also, account security depends on effective organizational policies for personnel and security training. You will often be involved in shaping and updating these policies in line with best practice, as well as delivering security awareness education and training programs.
Lesson 9: Implementing Secure Network Designs
Managing user authentication and authorization is only one part of building secure information technology services. The network infrastructure must also be designed to run services with the properties of confidentiality, integrity, and availability. While design might not be a direct responsibility for you at this stage in your career, you should understand the factors that underpin design decisions, and be able to implement a design by deploying routers, switches, access points, and load balancers in secure configurations.
Lesson 10: Implementing Network Security Appliances
In addition to the secure switching and routing appliances and protocols used to implement network connectivity, the network infrastructure design must also include security appliances to ensure confidentiality, integrity, and availability of services and data. You should be able to distinguish the features of security and monitoring devices and software and deploy these devices to appropriate locations in the network.
Lesson 11: Implementing Secure Network Protocols
When hosts join a network, they need to be configured with the appropriate settings for that network. The services that provide these settings, such as DHCP and DNS, must be deployed securely. When hosts access data using server applications, such as web/HTTP, email, and VoIP, the communications between clients and servers must be managed using secure versions of the application protocols. You will also need to configure secure protocols that allow users to access networks, host desktops, and appliance configuration interfaces remotely. 
Lesson 12: Implementing Host Security Solutions
Effective network architecture design, protocol configuration, and the use of appliances such as firewalls and intrusion detection help to provide a secure network environment, but we also need to consider the security systems configured on network hosts as well. Security procedures and solutions are complicated by the range of different types of hosts that networks must support, from PCs and laptops to smartphones and embedded controllers.
Lesson 13: Implementing Secure Mobile Solutions
Mobile devices are now the preferred client for many common work tasks, and network management and security systems have had to adapt to accommodate them. The shift toward mobile also presages a move toward unified management of endpoints, and the use of virtualized workspaces as a better model for provisioning corporate apps and data processing. 
Lesson 14: Summarizing Secure Application Concepts
Automation strategies for resiliency, disaster recovery, and incident response put development (programming and scripting) at the heart of secure network administration and operations (DevSecOps). As well as automating operations, more companies are having to maintain bespoke code in customer-facing software, such as web applications. Consequently, secure application development is a competency that will only grow in importance over the course of your career.
Lesson 15: Implementing Secure Cloud Solutions
The main idea behind cloud computing is that you can access and manage your data and applications from any host, anywhere in the world, while the storage method and location are hidden or abstracted through virtualization. Cloud applications—whether accessed as public services or provisioned over private virtualization infrastructure—are rapidly overtaking on-premises service delivery models. Security in and of the cloud considerations will form an increasingly important part of your career as a security professional. 
Lesson 16: Explaining Data Privacy and Protection Concepts
If people are an organization's most important asset, then data comes a close second. The rapid adoption of cybersecurity awareness and technologies has come about because of the huge reputational and financial costs of high-profile data and privacy breaches. It is usually data that the threat actors want, and data that the whole system is set up to protect.
The confidentiality, integrity, and availability security attributes of data processing and storage are ensured through a mixture of managerial, operational, and technical controls. Along with security, you should also be able to assess privacy factors when collecting and storing data, and identify how processes must be shaped by legislative and regulatory compliance.
Lesson 17: Performing Incident Response
From a day-to-day perspective, incident response means investigating the alerts produced by monitoring systems and issues reported by users. This activity is guided by policies and procedures and assisted by various technical controls.
Incident response is a critical security function and very large part of your work as a security professional will be taken up with it. You must be able to summarize the phases of incident handling, utilize appropriate data sources to assist an investigation, and apply mitigation techniques to secure the environment after an event.
Lesson 18: Explaining Digital Forensics
Where incident response emphasizes the swift eradication of malicious activity, digital forensics requires patient capture, preservation, and analysis of evidence using verifiable methods. You may be called on to assist with an investigation into the details of a security incident and to identify threat actors. To assist these investigations, you must be able to summarize the basic concepts of collecting and processing forensic evidence that could be used in legal action or for strategic counterintelligence.
Lesson 19: Summarizing Risk Management Concepts
If a company operates with one or more vulnerable business processes, it could result in disclosure, modification, loss, destruction, or interruption of critical data or it could lead to loss of service to customers. Quite apart from immediate financial losses arising from such security incidents, either outcome will reduce a company's reputation. If a bank lost its trading floor link to its partners, even for an hour, since the organization's primary function (trading) would be impossible, huge losses may result. Consequently, when planning a network or other IT system, you must perform risk management to assess threats and vulnerabilities.
Analyzing risk plays a major role in ensuring a secure environment for an organization. By assessing and identifying specific risks that can cause damage to network components, hardware, and personnel, you can mitigate possible threats and establish the right corrective measures to avoid losses and liabilities.
Lesson 20: Implementing Cybersecurity Resilience
Cybersecurity resilience means that even successful intrusions by threat actors have limited impact on confidentiality, integrity, and availability. Provisioning redundancy in storage, power, and network systems, plus effective backup procedures, site resiliency, and effective procedures for change control and configuration management are crucial in maintaining high availability. 
Lesson 21: Explaining Physical Security
Risks from intrusion by social engineering, wireless backdoors, and data exfiltration by mobile devices all mean that physical security is a critical consideration for site design and operations. The premises in which networks are installed need to use access control mechanisms and be resilient to person-made and natural disasters, such as fire.
All necessary course materials are included.
Certification(s):
This course prepares students to take the CompTIA A+ 220-1101, 220-1102, Network+ N10-008, and Security+ SY0-601 certification exams.